The key to course design is meeting your course's learning outcomes within the 14 week semester. Each semester is 7 weeks, a study break, and 7 weeks. Essentially, you have 14 weeks to ensure that the learning outcomes are taught, practiced and assessed. As you plan your course think about what you will "teach," the opportunities that students will have to "practice" what they learn and the ways that learning will be "assessed" to ensure that the course's learning outcomes are achieved.
Backward Design
Backward design, also referred to as understanding by design, is a method of designing educational instruction by setting goals before choosing instructional methods and assessments. It's called backward because it starts with the end (i.e. outcomes) in mind and works backward from there. Most new to teaching start with the instructional materials and content, then plan learning activities, then assessments, and maybe define outcomes. This common approach is not very efficient or fair to students because it does not always aim in any particular direction and students may end up doing "busy work."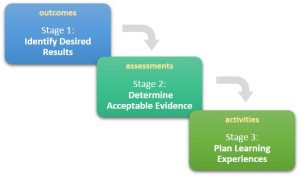 The backward design process occurs in three phases:
Identify the desired results/outcomes.

Determine which assessments will allow students to properly demonstrate that they can meet those outcomes.

Design activities that will help students successfully complete the assessments and thus meet the learning outcomes of the course.
When the backward design model is followed as part of the course design process, you will be able to have a course that is aligned. This means that the activities, content, and assessments will help students meet the learning outcomes.
The purpose of backward design is to help create a course with measurable learning outcomes, assessments that accurately reflect those outcomes, and content and learning activities to help students successfully complete the assessments and thus meet the learning outcomes.