The Assignments tool enables instructors to create, distribute, and collect assignments submissions. You can create varied assignments for students, such as:
Case studies

Problem-based learning exercises

Essays and research papers

Group projects
You create assignments in Content Areas, but you can also add them to specific folders. You can deliver assignments to each student individually or as collaborative work for groups of students.
Blackboard's Interactive Tools provides you with the option to create alternate assignment types. The following interactive/communication tools can be used for assessment purposes:
Discussions

Journals

Blogs

Wiki
Creating Assignments in a Content Area
Step 1. In Edit Mode, access a Content Area on the menu. (eg Assessments)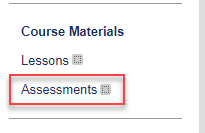 Step 2. On the Action Bar, point to Assessments to access the drop-down list.
Step 3. Select Assignment.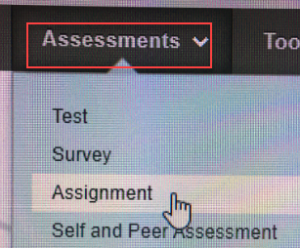 Step 4. On the Create Assignment page, type the Assignment Name.
Step 5. Optionally, type Instructions for the assignment. Include file naming conventions, due dates, and where to go for additional help in your instructions.
Step 6. Optionally, attach a file using Browse My Computer, and type the document name. If you do not provide one, the file name is used as the link.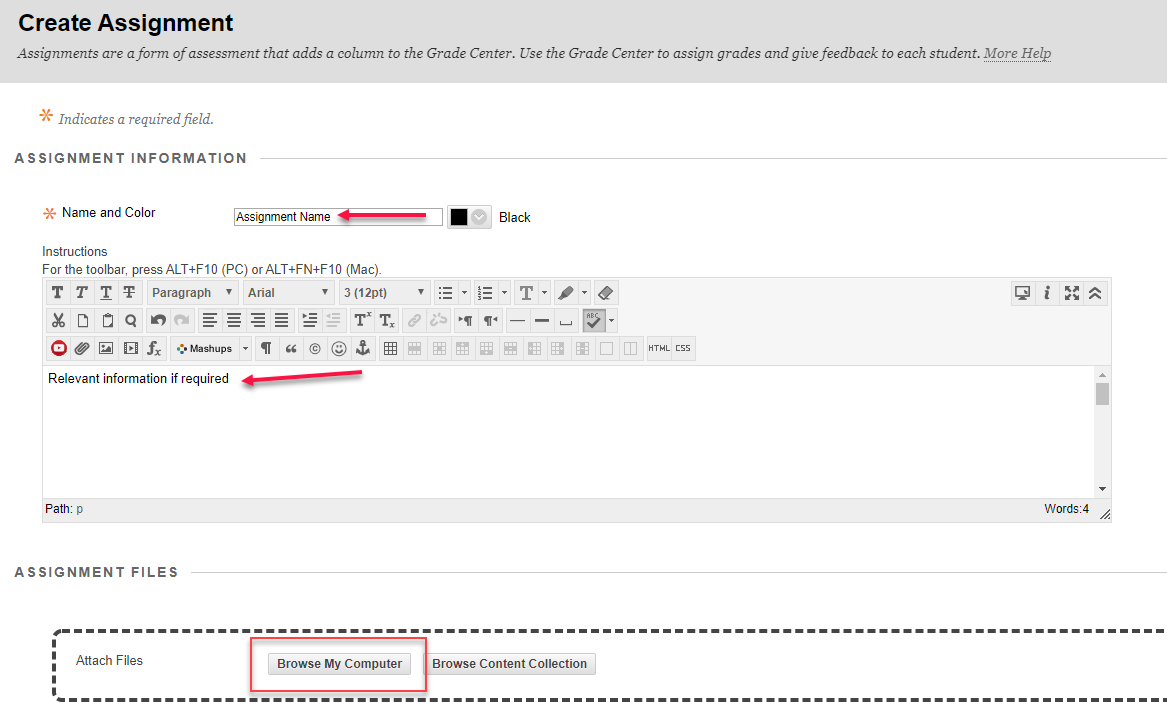 Step 7. Set your Due Date by typing the date and time. If a student submits an assignment after the due date, the submission is identified as late.
Step 8. Type Points Possible, this is the score that you will be grading out of not the weighting of the assignment.
Step 9. Click Add Rubric, to select a rubric or create a rubric.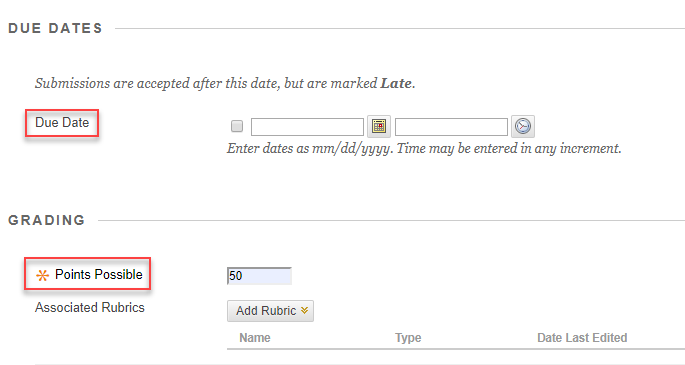 Step 10. Click Submission Details to assign number of attempts and set SafeAssign settings, if applicable.
Step 11. Select Assignment Type: Individual or Group. Please note that if you are creating a group assignment, you must create your groups first, and then create the assignment.
Select the option for Number of Attempts, if needed. The default setting is to allow a single attempt. If you allow more than one attempt, the Grade Center uses the most recent attempt.
Step 12. Select Plagiarism Tools to check submissions for plagiarism using SafeAssign. 
Student submissions to SafeAssign are checked against comprehensive databases of source material for matching content:
Internet – checks documents available for public access on the Internet

ProQuest ABI/Inform database – checks approximately 2.6 million articles from '90s to present time

Institutional document archives – checks all papers submitted to Loyalist College's Blackboard SafeAssign

Global Reference Database – checks papers that are volunteered by students from all institutions using Blackboard SafeAssign.
Let students view their originality report

(ie. the results of the SafeAssign scan) by clicking: Allow students to view SafeAssign originality report for their attempts

Allow students to submit a DRAFT

by clicking: Exclude submissions from the Institutional and Global References Databases.
Please note – It is NOT possible to enable checking with SafeAssign after students have submitted assignments. This will cause unrecoverable errors and force the deletion of all submitted assignments

For more information on viewing and interpreting safe assign reports, please review Blackboard Help.
NOTE: Loyalist College currently uses the Original Course View
Step 13. If applicable, select the Display After and/or Display Until check boxes to enable the date and time selections. Type dates and times in the boxes or use the pop-up Date Selection Calendar and Time Selection Menu to select dates and times.
Step 14. Click Submit.
Note: the grade column will automatically appear in the grade centre.